About Us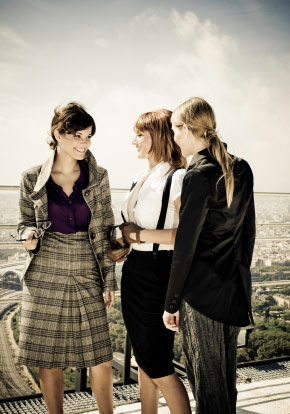 You've heard it time and again. And when it comes down to it, Metropolitan's business is all about people. Not only the employees we find for you, but equally important, is you, our customer.
Metropolitan's people are the foundation of the company and you are our focus. Finding and keeping qualified people requires aggressive advertising, referrals, open houses, and networking. Each of these is of equal importance when you must have the best.
Then, through a rigorous screening process, we find the applicants that are best suited for your needs.
More than a client
Because we always have you in mind, we are committed to making your job easier. One way we do that is by assigning a personal account executive to handle your account exclusively. They'll get to know you, your business, and your needs.
They will take your order, interview the prospects and fill the position. They will be there when you need them. And for you that's less wasted time, less confusion, and better results.
The good news from Metropolitan
Placing someone in your company, at any level, is a huge responsibility. Your image and reputation are on the line with every phone call and each encounter.
We take this responsibility seriously. That means getting the right person the first time.
Here's how it's done:
1. Find the right person.
Attracting talented people is the first step in getting you the person you need. We aggressively solicit new people through open houses, networking, print advertising, the Internet, and from referrals. Nothing is more effective than word of mouth. Bright, able people tend to know other bright, able people. Because we offer comprehensive benefits, bonuses, and employee incentive programs, Metropolitan attracts and retains the most qualified, experienced people.
2. Match the profile to the position.
Once we have found a candidate, we review their resume, interview them, assess their skills, check references and when appropriate conduct background checks. That way we learn who they are, their abilities and where they might best work. Then we'll look at your work requirements and match the person to the profile.
From front office to warehouse, Metropolitan has created thousands of "perfect matches" throughout the greater New York area. Our wide ranged employee/applicant database is certain to have just the person you're looking for - from office temporaries, to telemarketers, to accountants, to warehouse workers, to sales people for every business. We can even provide experienced foreign-speaking personnel to meet your special needs.
3. Monitor and guarantee performance.
We monitor job sessions continuously throughout the job assignment. On the first day you'll receive an initial call to confirm prompt arrival. Later, a follow-up call is made to review performance and continuance of the assignment. We want to be absolutely certain that the right person is on the job and that you are 100% satisfied.
Your input is also important.Your comments at the completion of each assignment help us evaluate our people on a continuing basis. Performance, qualifications, and personal character become a permanent part of the employee's job record. This information makes our services that much more effective.
And we stand behind our words. Metropolitan unconditionally guarantees the performance of every employee we place.
Want to know more? Give us a call!
How can we help your business?
Our vast array of talented people ensures that we can find someone suitable for any job. Although each person is different, they all have one commonality: a commitment to doing the job well. And we hold ourselves to the same high standards. Metropolitan it self is fortunate to have assembled a group of people who are dedicated, able and personable. From the mailroom to the corner office, we can help your business run smoothly.
Every day we fill positions such as Personal, Junior, and Senior
Administrative Assistants; Receptionists, Clerks, Data Entry, Mailroom Personnel, and Legal Proofreaders, and much, much more.
Telemarketing
Metropolitan has hundreds of experienced telemarketers. We can help your sales staff get appointments, meetings and qualified leads. Or we can train your staff to do it and support them with experienced supervisors.
You have the benefit of professionals trained in: Customer Service, Market Research, Inside Sales, Appointment Setting, Multi-Lingual Telemarketing, Survey Taking and Proxy Solicitation.
Finance
We can help you save money with financial expertise. Metropolitan Accountants and Auditors focus exclusively on placing individuals in accounting, auditing and bookkeeping. Our finance consultants are educated, trained and have valuable experience in the accounting business sector; all are computer literate and available on a project or full-time basis, as temporary or permanent employees.
We can help you with: Additional Workforce Assistance to meet backlogs or deadlines, Quarterly and Year-end Closings, Systems Conversions, Special Projects and Survey Taking.
Warehousing/Retail
At Metropolitan we are in high gear before your busy season starts. So whether you're in need of an extra pair of hands or hundreds of them, we've got you covered.
We cover the entire range of warehousing and retail needs; even when you're down to the wire and need people the next day!
You can count on Metropolitan for Material and Carton Handlers, Shippers and Loaders, Clerical Personnel, Processors, Flat Ticketers and Maintenance People.
Legal
Our legal department has over 20 years of experience serving many well-known law firms. Whether it's assistance for a senior partner or staffing your word processing centers, Metropolitan has the helping hands you need.